Spanish Food
While you might first have been drawn to Spain by its wines and cultural attractions, you'll be delighted by the astonishing variety of tastes and textures Spanish gastronomy has to offer. From the simple pleasure of fragrant olive oil drizzled over toasted bread to the latest sumptuous creation of one of Spain's top chefs, you'll catch yourself thinking, "Hmm That tastes like ... more!"
Beyond such famous dishes as tortilla, gazpacho and paella, Spanish food doesn't conform to one definitive national style. Spanish cuisine is made up of an exciting variety of diverse local and regional culinary traditions each influenced by the local foodstuff and cultural heritage of the area. Just as each wine region in Spain produces it own distinctive wines, it also offers its own singular dishes and cooking methods.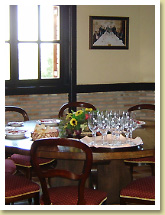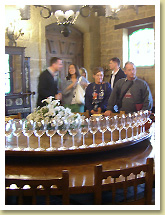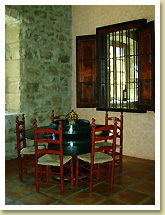 Our tours will allow you to delight in some of Spain's best known regional dishes like roast suckling pig, lamb cutlets roasted over grapevine cuttings, or unusual fish dishes, such as trout a la Riojana. You will also discover Spain's celebrated tapas, jamón ibérico (cured ham), embutidos (sausages), and artisanal cheeses.
While traveling with Vinophoria, a gourmet meal in a scenic winery won´t be the only fine dining experience you´ll enjoy. We pay as much attention to the restaurants featured on our tours as to the wineries. In addition to the quality of the food, we look for places that provide a picturesque setting or special ambiance ... the elegance of a 17th century palace, the tranquility of a former monastery, the allure of ultra-modern architecture and sleek decoration, or the simple comfort of a charming rustic inn. The food, the wine, the setting ... all three elements culminate in an unforgettable meal.
Our tours typically include two scheduled meals per day, i.e. breakfast and lunch or breakfast and dinner. This means that you´ll get the opportunity to have your own culinary adventure, peruse the options available, and choose what most appeals to your current mood. For meals "on your own", we´ll provide you with a list of suggestions in the area, including some of our favorite dining establishments, as well as a list of noteworthy dishes, particular to the restaurant or the region.