About Our Tours
Vinophoria tours are for wine and food enthusiasts who would like to intimately discover the pleasures of Spanish wine country and be pampered along the way. Splendid wines, gourmet cuisine, beautiful landscapes, fascinating culture…. such things are meant to be savored. We design our tours not around a rigorous checklist of "must sees" and "must dos," but around a succession of in-depth experiences and fully-enjoyed moments satisfying all the senses.
Our tours follow a leisurely pace, and combine scheduled activities with opportunities for you to strike out on your own and spend your time as you please. A typical day begins between 9 and 10 am, and includes two or three wine activities, with time reserved for sightseeing, taking a quiet walk, kicking back at the hotel, or doing a bit of shopping.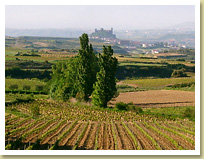 Itineraries usually include two scheduled meals per day, i.e. breakfast and lunch or breakfast and dinner. This means that you can have your own culinary adventure. For meals "on your own," we´ll provided you with a list of suggestions, including some of our favorite dining establishments, as well as a list of noteworthy regional dishes.
Vinophoria tours explore the best Spanish wines and wineries. We've personally visited every winery on our tour and chosen each winery for a particular standout feature. We visit a range of wineries which reflect the diversity of Spanish wine: small, family-run wineries; boutique wineries offering "vinos de autor"; traditional wineries that have been producing fine wines for over a hundred years; ecological wineries producing organic wines; grand wine estates; and the most modern wineries with cutting-edge technology and stunning facilities designed by world-renowned architects.
Travelers with Vinophoria will not only tour the wineries and enjoy private tastings, but also be able to meet some of these captivating winery owners and winemakers whose passion for wine is contagious as they explain their own techniques and philosophy of wine.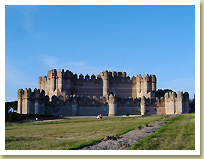 Spain offers an astonishing wealth of well-preserved cultural and historical monuments such as Roman aqueducts, Islamic palaces, Medieval castles, Romanesque churches, Gothic cathedrals and prestigious art museums such as the Guggenheim in Bilbao and the Prado in Madrid. We visit the most important cultural sites of each region.
Our tours offer a fusion of fine accommodations, luxury transportation and gourmet dining; each element must meet our exacting standards. We choose restaurants and hotels that provide excellent service, but also offer an extra-special ambiance: the elegance of a 17th century palace, the tranquillity of a former monastery, the allure of ultra-modern architecture and sleek decoration, or the simple comfort of a charming rustic inn, these are just a few possibilities.
In short, our tours are carefully crafted to afford our clients the most pleasurable overall travel experience, and focus on highly personalized service. A Vinophoria tour is an unforgettable journey through Spanish wine country!